Natascha Braunbeck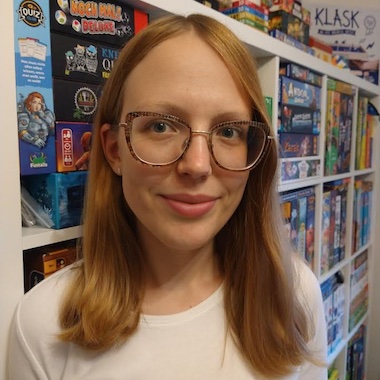 Born in the Catan year 1995 and raised in the Main-Taunus district.
In her childhood, she was playfully socialized with classics like Rummikub and Kniffel and has always loved to play. First visits to public game meetings a few years ago were Natascha's entry into the game scene. Since then, she has been playing every day and now has a large collection of games – from children's to expert games.
Natascha particularly enjoys passing on her enthusiasm for play as part of her work as a social pedagogue. While still a student, she introduced children between the ages of three and ten to new modern games at a daycare center. For the past two years, she has been working in extended school care at an elementary school in Frankfurt. There, too, she is able to inspire the six- to ten-year-old children with the new games she brings along.
Natascha goes to several public gaming groups, attends gaming events, the nearby Playce board game café, and plays regularly with family and friends.
She also volunteers at the "Offenbach spielt" event.