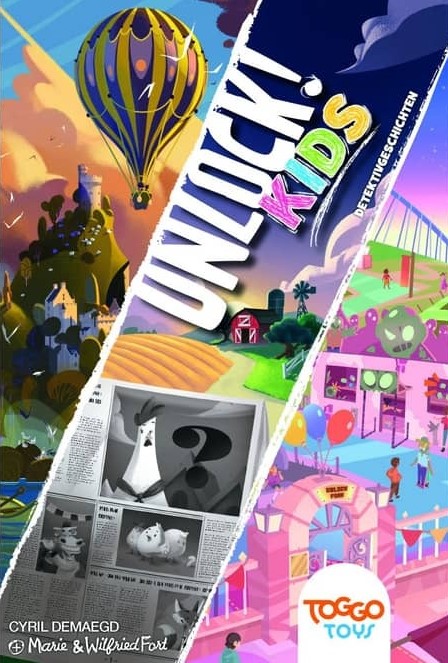 Feather Balls and Mysteries • Mac Unlock's Castle • Fuss at the Park
Whether in an amusement park, on the farm or in an old castle: the "Unlock Kids" series captivates children. Unlike its big brother, "Unlock", the junior version doesn't need an app at all. Guessing becomes an exciting, tactical challenge where players need to combine and place playing cards and special tiles and often need to think outside the box. And it's often the children who will leave their parents looking on, dumbfounded. Their young eyes can often see more than their parents', especially when numbers are hidden somewhere that can lead to cute little rewards.
Jury statement
"Unlock" continually manages to surpass and reinvent itself. The act of speculating and deducing solutions together is a real communal experience. The use of technical gimmicks enriches the analogue game experience, creating a sense of atmosphere and surprises players with unexpected effects, like moving images on cards. Some puzzles only work with sounds or simulate the scanning of DNA traces. We don't just feel like the main characters in an adventure, we truly are.
With the introduction of the "Kids" editions in 2021, the exciting "Unlock" concept was made accessible to younger fans, with no time limit or devices required. Optional objectives increase the replayability and offer various solutions to individual adventures.
The ever-increasing quality and the outstanding creativity in puzzles, atmosphere and story culminate in "Unlock! Game Adventures" and "Unlock! Kids: Detective Stories". The jury has honoured these with the special 'Sonderpreis' award.