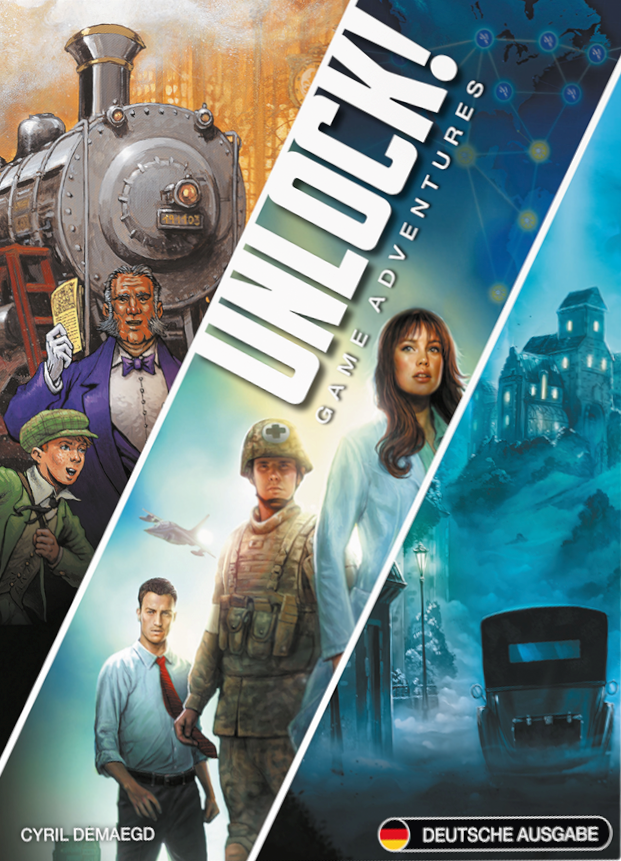 Zug um Zug (Ticket to Ride) • Mysterium • Pandemic
Since 2017, this app-supported co-operative puzzle adventure has appeared in various scenarios and levels of difficulty. For the tenth edition, the designers are giving a gift to all gaming fans: three cases based on well-known board games.
"Ticket to Ride", "Mysterium" and "Pandemic" form the backdrop against which players will combine cards, discover hidden symbols and use their smartphones to solve creative and challenging puzzles. Even players with no knowledge of the games in question will enjoy saving the world from a deadly virus, solving a gruesome murder in an old mansion and mastering the perilous rail journey across the USA.
Jury statement
"Unlock" continually manages to surpass and reinvent itself. The act of speculating and deducing solutions together is a real communal experience. The use of technical gimmicks enriches the analogue game experience, creating a sense of atmosphere and surprises players with unexpected effects, like moving images on cards. Some puzzles only work with sounds or simulate the scanning of DNA traces. We don't just feel like the main characters in an adventure, we truly are.
With the introduction of the "Kids" editions in 2021, the exciting "Unlock" concept was made accessible to younger fans, with no time limit or devices required. Optional objectives increase the replayability and offer various solutions to individual adventures.
The ever-increasing quality and the outstanding creativity in puzzles, atmosphere and story culminate in "Unlock! Game Adventures" and "Unlock! Kids: Detective Stories". The jury has honoured these with the special 'Sonderpreis' award.