Christoph Schlewinski
Vice Chairman Spiel des Jahres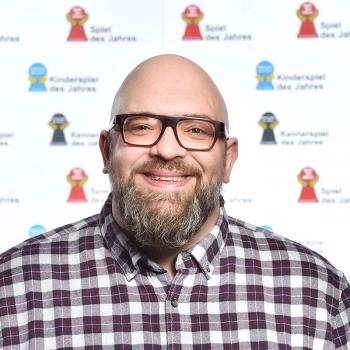 For Christoph Schlewinski, born in 1973, a life without games is hard to imagine.
In the games library at Marl, he spent eleven years showing children and young people how much more entertaining and friendlier it is to play with others. Once this seed of gaming had been planted, it blossomed. Those children grew up to have children of their own and to play games with them. A lot of games.
Today, Schlewinski lives in Cologne and works as script writer reviewer for the "spielbox", the "Spiel doch!" and the "Spielerei" magazine – and is 50 per cent of the cabaret duo "Fußpflege Deluxe". Since board games take up more space relatively than CDs, DVDs or small crystal animals, he has been trying for years to reduce his games collection and to create more storage space. Without much success.
Schlewinski is active in several games clubs, has founded numerous private gaming groups and still manages to convince people who find board games "really stupid" that the opposite is true.
He always especially pleased about his work in the "Kinderspiel des Jahres" jury, because it allows him to help bring families and children together around the gaming table. Because is there anything better than a good games evening? Perhaps… but it's hard to imagine.